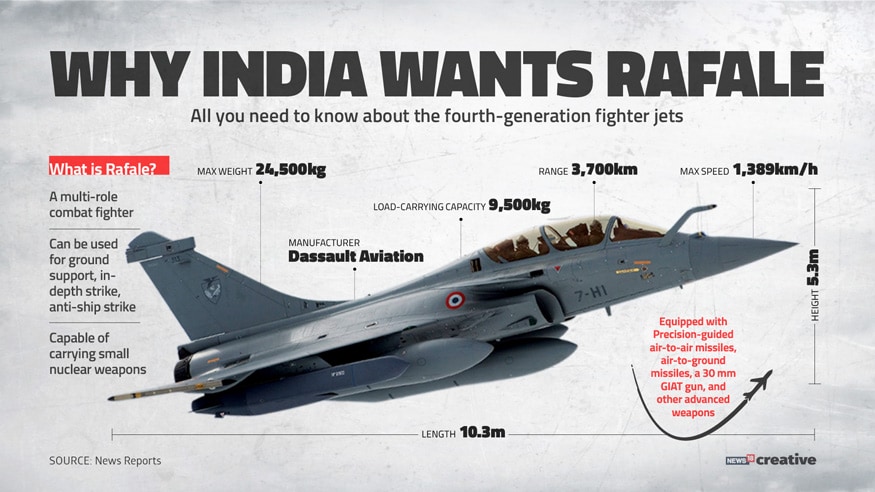 Indian Airforce (IAF) finally received its first squadron of five rafale fighter jets out of a deal of 36 Rafales fighter jets signed with France in September 2016. Generally defence deals consume significantly larger time than this but India received its first squadron in just 4 years.
Anyways the path had its own hurdles, for example the main controversy that attached was attached to this deal was cost of each aircraft. Agenda was long run by chief political parties in India and in fact the honourable supreme court of India too was dragged into this matter.
Congress leaders Ghulam Nabi Azad and former minister of state for defence Jitendra Singh, citing Dassault's annual report, alleged that Egypt and Qatar had paid ₹1,319 crore per aircraft in comparison to ₹1,670 crore paid by India, which represented an increase of ₹351 crore per aircraft. They alleged that acquiring 36 aircraft instead of 126 adversely affected national security. Dassault's CEO, Eric Trappier responded by saying that the numbers were not comparable as India's total included costs for Mirage 2000 support and the deliverables for each country was different. He said that India's deal included after-sales support which was absent from other countries' deals. On 12 March 2018, Subhash Bhamre informed the Rajya Sabha that the cost of each Rafale was approximately ₹670 crore, although this cost did not include the costs of "associated equipment, weapons, India specific enhancements, maintenance support and services".
On 23 March 2018, Congress joined Telugu Desam Party and YSR Congress Party in filing a motion of no confidence against the government. In April 2018, Rahul Gandhi alleged that ₹45,000 crore was stolen and given to "an industrialist friend", referring to Anil Ambani. In May 2018, Rahul Gandhi alleged that UPA had finalised a deal to buy Rafales at ₹700 crore, but Modi cancelled the transfer of technology contract wth HAL and gave it to "his friend's company", referring to Reliance Defence Limited. In June 2018, it was reported that Comptroller and Auditor General of India was close to finishing its report on the Rafale acquisition.
How Rafale is Different than Any Other Fighter Aircraft?
Cockpit of Dassault's Rafale Multirole Combat Fighter
The cockpit has hands-on throttle and stick control (HOTAS). The cockpit is equipped with a heads-up, wide-angle holographic display from Thales Avionique, which provides aircraft control data, mission data and firing cues.
A collimated, multi-image head-level display presents tactical situation and sensor data, while two touchscreen lateral displays show the aircraft system parameters and mission data.
The pilot also has a helmet-mounted sight and display. A CCD camera and on-board recorder records the image of the head-up display throughout the mission.
Rafale fighter weapons
Rafale can carry payloads of more than 9 tonnes on 14 hardpoints for the airforce version, with 13 for the naval version. The range of weapons includes: Mica, Magic, Sidewinder, ASRAAM and AMRAAM air to-air missiles; Apache, AS30L, ALARM, HARM, Maverick and PGM100 air-to-ground missiles and Exocet / AM39, Penguin 3 and Harpoon anti-ship missiles.
For a strategic mission the Rafale can deliver the MBDA (formerly Aerospatiale) ASMP stand-off nuclear missile. In December 2004, the MBDA Storm Shadow / Scalp EG stand-off cruise missile was qualified on the Rafale.
In September 2005, the first flight of the MBDA Meteor BVRAAM beyond visual range air-to-air missile was conducted on a Rafale fighter. In December 2005, successful flight trials were carried out from the Charles de Gaulle of the range of Rafale's weapon systems, Exocet, Scalp-EG, Mica, ASMP-A (to replace the ASMP) and Meteor missiles.
In April 2007, the Rafale carried out the first firing of the Sagem AASM precision-guided bomb, which has both GPS / inertial guidance and, optionally, imaging infrared terminal guidance. Rafale have been equipped with the AASM from 2008. Rafale can carry six AASM missiles, with each aiming to hit the target with 10m accuracy.
The Rafale has a twin gun pod and a Nexter (formerly Giat) 30mm DEFA 791B cannon, which can fire 2,500 rounds a minute. The Rafale is equipped with laser designation pods for laser guidance of air-to-ground missiles.
How much India Needed an Upgrade in IAF?
The induction of Rafale fighter aircrafts into Indian Airforce (IAF) is viewed as a pivotal turning point that will augment the capabilities of Indian defence forces. Certainly its game changers by all means, Rafale in the Indian Airforce will mean winning a prime place among the countries that boast of superior fighting aircrafts. When compared with the air power of Pakistan and many other south Asian countries, Rafale will lift up India's competence significantly.