Whether you love this show or hate it; whether you think it's the drama gods' gift to mankind or the most ludicrous thing to ever grace our screens – heck, whether you even watch kdrama or not – you just can't ignore it.
When I first started watching Descendants of the Sun sometime last week, I had no idea how popular it was. During its original run in South Korea, it broke record ratings with a 28.5 percent viewership surpassing another insanely popular kdrama from two years ago called My Love From Another Star (that one was so popular, there's going to be an American remake, although I don't know what happened with that project) in only six episodes. It then continued to surpass its own ratings as the show went on. It currently has over 440 million views in China on legal and not-so-legal streaming sites and has been sold to 27 countries and translated into 32 languages.
 I watched the first episode and at about maybe 20 minutes into the first episode, I had fallen head-over-heels in love.
The story revolves around a special task force officer, Yoo Shi-Jin (Song Joong-Ki) and a surgeon Kang Mo-Yeon (Song Hye-Kyo) who meet under extraordinary circumstances. Their fate seems to collide again and again and they slowly realise their feelings for each other. Either their relationship will be strong enough to handle everything or will one be left behind forever.
Yoo Shi-Jin and Kang Mo-Yeon😍 indeed meet under extraordinary circumstances which leads to a misunderstanding. Yoo Shi-Jin is immediately attracted to the feisty surgeon but they don't get enough time to know each other. When Kang Mo-Yeon and her team are sent to Urk for medical works, they come face to face once again and their incomplete story begins again. This show is kind of cheesy too but it's worth it! I couldn't stop smiling at some of the moments and most of their interaction was pretty hilarious!
But the story had its serious moments too, especially when the earthquake happened and everything was in chaos, also when the epidemic broke out, I loved how the characters handled things. It kept me on edge and I was glued to the screen to know what happened next! There were also a loooot of side characters and I definitely enjoyed the fact that all the main focus was on always on the main leads but we were getting to know about the others as well.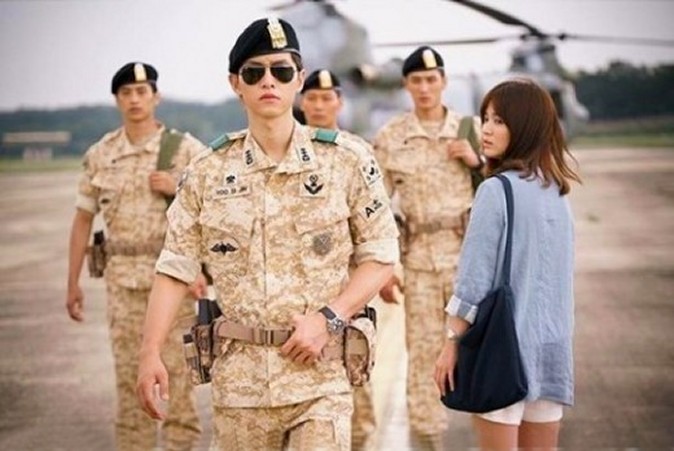 Anyway, their precious moments were interrupted a lot due to Yoo Shi-Jin emergency duty calls but they took their chance in the small moments possible. Their chemistry was crystal clear from the very start although the relationship slowly develops. (And I loooooove that now they are married in real life!!!) Trust was one of the most important factors and their trust in each other was the strongest! I absolutely loved the romance. 
Also, I absolutely loved the secondary pair. Seo Dae-Young (Jin Goo) and Yoon Myeong-Joo (Kim Ji-Won) were just adorable!! Yoon Myeong-Joo was an army doctor but due to her father who was the General, Seo Dae-Young was forced to stay away from her. It broke my heart to see those two hurting but I loved when they finally stood up for each other!
Descendants of the Sun was a fantastic watch! One that will stay will me forever! The plot although a little cliched was executed perfectly and loved the characters and the romance!! But the last two episodes were kind of crazy, I didn't feel it was necessary to do that of an extreme thing but well, I was satisfied in the end!