The All India Council For Technical Education (AICTE) has announced the scholarship programme for the post graduate (PG) students for the year 2020-21. The candidates of ME, MTech, MPharm, MArch with valid Graduate Aptitude Test in Engineering (GATE) or Graduate Pharmacy Aptitude Test (GPAT) score can apply for the scholarship. The eligible candidates can apply through the website- aicte-india.org.
"AICTE in order to ensure development of technical education in India awards Post Graduate Scholarship of Rs. 12,400/- per month to full-time GATE/GPAT qualified students admitted to AICTE approved post graduate programs in AICTE approved Institutions/ University Departments," reads the official notice.
AICTE offers scholarship of Rs 12400 per month to PG students. This facility is offered to full time GATE / GPAT qualified students.
A total of 24 months scholarship is awarded during the two-year PG course. Scholarships are awarded from the month of classes commencing to the month when classes are closed.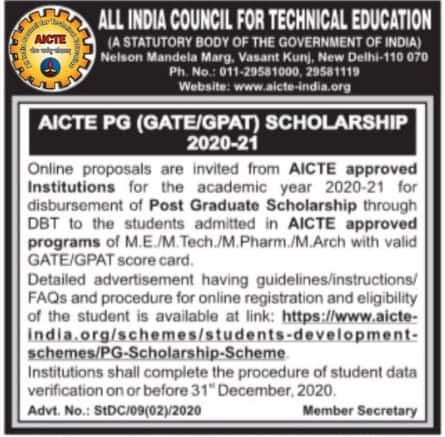 To receive the scholarship, candidates have to validate their students ID and proceed with filling the GATE PG scholarship form. All the details like Bank account number, institute permanent ID, students ID and date of birth have to filled correctly, failing which the disbursal of scholarship will be affected. After filling the form, institutes have to verify and submit the data of all candidates admitted in M.Tech/M.E./M.Arch through GATE for the academic years 2020-21.
The last date for institutes to verify and submit students data to AICTE is December 31. The scholarship will be provided from the date of commencement of classes/date of admission whichever is earlier. Students will receive the GATE scholarship 2020 amount directly in their bank account.
To receive the GATE scholarship 2020, candidates need to have a savings account in their name, same as furnished in GATE/institute admission. Candidates belonging to OBC-Creamy layer who have qualified GATE under OBC category will not be eligible for the scholarship. Candidates who qualified GATE under any reserved category (SC/ST/PwD/OBC-NCL) must have a valid category certificate without which they will not be considered for the scholarship.
Candidates who have qualified under the OBC (Creamy Layer) category are not eligible for the scholarship. However, OBC (Non-Creamy Layer) candidates will be required to submit certificates which are not more than one year old to process their applications for the programme.